Whether or not the world really is getting worse, the nature of news will make us think that it is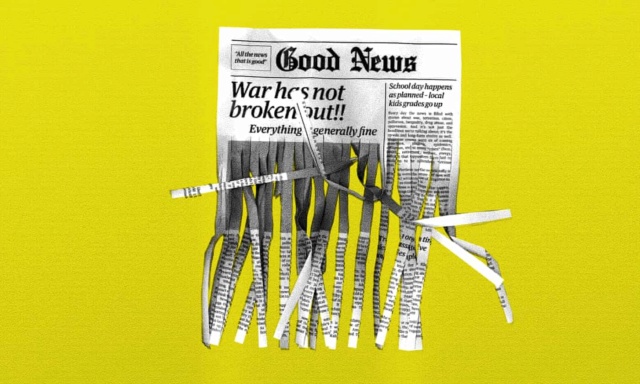 Every day the news is filled with stories about war, terrorism, crime, pollution, inequality, drug abuse and oppression. And it's not just the headlines we're talking about; it's the op-eds and long-form stories as well. Magazine covers warn us of coming anarchies, plagues, epidemics, collapses, and so many "crises" (farm, health, retirement, welfare, energy, deficit) that copywriters have had to escalate to the redundant "serious crisis."

Whether or not the world really is getting worse, the nature of news will interact with the nature of cognition to make us think that it is.

News is about things that happen, not things that don't happen. We never see a journalist saying to the camera, "I'm reporting live from a country where a war has not broken out"— or a city that has not been bombed, or a school that has not been shot up. As long as bad things have not vanished from the face of the earth, there will always be enough incidents to fill the news, especially when billions of smartphones turn most of the world's population into crime reporters and war correspondents.

The nature of news is likely to distort people's view of the world because of a mental bug that the psychologists Amos Tversky and Daniel Kahneman called the Availability heuristic: people estimate the probability of an event or the frequency of a kind of thing by the ease with which instances come to mind. In many walks of life this is a serviceable rule of thumb. But whenever a memory turns up high in the result list of the mind's search engine for reasons other than frequency—because it is recent, vivid, gory, distinctive, or upsetting—people will overestimate how likely it is in the world.

The consequences of negative news are themselves negative. Far from being better informed, heavy newswatchers can become miscalibrated. They worry more about crime, even when rates are falling, and sometimes they part company with reality altogether: a 2016 poll found that a large majority of Americans follow news about Isis closely, and 77% agreed that "Islamic militants operating in Syria and Iraq pose a serious threat to the existence or survival of the United States," a belief that is nothing short of delusional.

Consumers of negative news, not surprisingly, become glum: a recent literature review cited "misperception of risk, anxiety, lower mood levels, learned helplessness, contempt and hostility towards others, desensitization, and in some cases, ... complete avoidance of the news." And they become fatalistic, saying things like "Why should I vote? It's not gonna help," or "I could donate money, but there's just gonna be another kid who's starving next week."

Relentless negativity can have other unintended consequences, and recently a few journalists have begun to point them out. In the wake of the 2016 American election, the New York Times writers David Bornstein and Tina Rosenberg reflected on the media's role in its shocking outcome:

Trump was the beneficiary of a belief— near universal in American journalism—that "serious news" can essentially be defined as "what's going wrong... For decades, journalism's steady focus on problems and seemingly incurable pathologies was preparing the soil that allowed Trump's seeds of discontent and despair to take root. .. One consequence is that many Americans today have difficulty imagining, valuing or even believing in the promise of incremental system change, which leads to a greater appetite for revolutionary, smash-the-machine change."
Great article and much more on link: https://www.theguardian.com/commentisfree/2018/feb/17/steven-pinker-media-negative-news
_________________
"Do I contradict myself? Very well; I contradict myself. I am vast, I contain multitudes"
~ Walt Whitman

eddie

King of Beards. Keeper of the Whip. Top Chef. BEES!!!!!! Mushroom muncher. Spider aficionado!




Posts

: 41253


Join date

: 2013-07-28


Age

: 21


Location

: England



The whole aim of practical politics is to keep the populace alarmed (and hence clamorous to be led to safety) by menacing it with an endless series of hobgoblins, all of them imaginary.

H. L. Mencken


It's not just the media.

_________________
pa·ter·nal·ism

noun

The policy or practice on the part of people in positions of authority of restricting the freedom and responsibilities of those subordinate to them in the subordinates' supposed best interest.

Maddog




Posts

: 7653


Join date

: 2017-09-23


Location

: Texas



---
Permissions in this forum:
You
cannot
reply to topics in this forum