Due to the low pressure system that brought high winds and rain to the UK, the Arctic could be hotter than Chicago, Vienna and Istanbul on Wednesday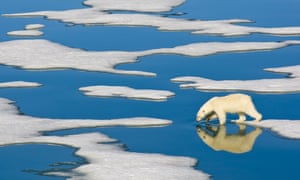 A polar bear walking on melting ice sheets. Photograph: Ralph Lee Hopkins
The north pole could be hotter than Chicago, Vienna or Istanbul on Wednesday due to the low pressure system that has brought tornados to Dallas and high winds and heavy rainfall to the UK.
The Arctic could reach temperatures about 35C (63F) warmer than average for this time of year, meteorologists have warned.
Computer model projections earlier this week suggested that the air temperature at the pole, which is currently shrouded in 24-hour darkness, could reach 5C, rather than the usual -30 to -35C, according to Mashable. This would make it milder than much of Canada and the US.
Temperature fluctuations are fairly common in the Arctic, where shifts in sea ice cover can significantly affect local air temperatures, but such a strong variation is extreme.
"That's absolutely terrifying and incredibly rare," meteorologist Eric Holthaus told Slate.
"By any yardstick, these are extremely warm and likely record readings for the north pole," noted climate blogger Robert Scribbler. The strange weather coincides with an unusually warm winter in Europe and the eastern US and torrential flooding in parts of south America.
The warm weather could affect the buildup of Arctic sea ice during the winter. Ice cover has already been vastly reduced by global warming.
The conditions have been caused by one of the biggest storms ever to hit the northern Atlantic, reaching speeds of up to 230mph. Storm Frank lashed the north of England, Scotland and Northern Ireland with downpours and gale force winds on Wednesday.
Temperatures have reached or exceeded freezing point at the north pole during December on only three occasions since 1948, according to meteorologist Bob Henson of WeatherUnderground.
http://www.theguardian.com/world/2015/dec/30/north-pole-could-be-25c-warmer-than-average-this-week-warn-meteorologists?CMP=share_btn_tw
Bloody Hell!!!!!!!!!!!!!!!!!!!!!!!!!!
north pole and heat wave are not expressions you normally see in the same paragraph, let alone the same sentence
time to get the wellies out....
_________________
If at any time in 2018 I have annoyed you, pissed you off or said the wrong thing....Suck it up snowflake, cause 2019 AINT gonna be any different
Patience my Ass......I' m gonna KILLsomething
.(It's hard to remember that the task is to drain the swamp, when you are up to your arse in alligators)

[b]

I DONT BELIEVE IT!!!!!!!!!!!!!!!

Victorismyhero

INTERNAL SECURITY DIRECTOR





Posts

: 11244


Join date

: 2015-11-06



Them ones with shoulder straps!!!!!!!!!!!!!!!!!!!!!!!!!!
Anybody who continues to deny global warming is a moron, and those who've done so up to this point aren't going to be viewed kindly by future generations.

_________________
"Got 16 days / got a bottle and a rosary

God I wish that you were close to me"

- Whiskeytown
I think it's bloody terrifying, 35C HIGHER, absolutely crazy.
---
Permissions in this forum:
You
cannot
reply to topics in this forum