Because of Coronavirus....
Bob Shellard was set to visit his wife Nancy Shellard in her nursing home for their wedding anniversary on March 14, but when the home banned visitors due to coronavirus, Bob had to get creative.

Bob, 90, and Nancy, 88, have been married for 67 years. The two met when Nancy worked at a small dairy shop and Bob would visit while he waited for the bus to go to work at his job after World War II. The couple has four children, nine grandchildren and two great-grandchildren with one on the way.

After being diagnosed with dementia, Nancy moved into a nursing home in Stafford Springs, Connecticut, in December. Bob has a caretaker or family friend take him to visit her almost every day.

"I just miss her now that she's in the nursing home," Bob said.

On March 9, the nursing home announced that it would stop accepting visitors due to coronavirus concerns. Bob's youngest daughter, Laura Mikolajczak, 51, called her dad to tell him the news. Bob and Nancy's anniversary was that Saturday.

"He asked me, 'How am I going to get in there?'" Laura said. "I told him he couldn't get in, but maybe they could wheel her up to the window and we could stand with balloons outside so she can see us."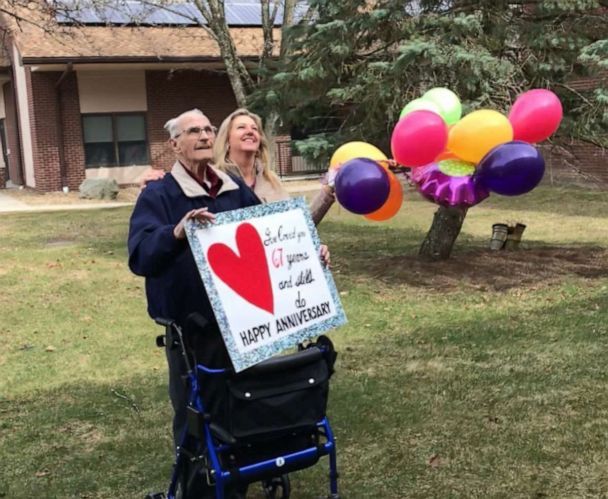 https://www.yahoo.com/gma/husband-holds-sign-wife-outside-nursing-home-67th-015500119--abc-news-topstories.html
How sad is that picture?
_________________
"Do I contradict myself? Very well; I contradict myself. I am vast, I contain multitudes"
~ Walt Whitman

eddie

King of Beards. Keeper of the Whip. Top Chef. BEES!!!!!! Mushroom muncher. Spider aficionado!




Posts

: 42246


Join date

: 2013-07-28


Age

: 21


Location

: England



I haven't seen my mom in about 10 days. I call her and she seems to understand, but other times she thinks the whole thing is a bit silly. When you live through the Great Depression and WWII you get a different perspective, especially in your waning years. Probably worse than not seeing me, is the fact that they have to stay pretty much in their rooms. She has little social contact right now. But there is just no way around this. Everyone there is at high risk and if one of them gets it, it will be a disaster.

_________________
pa·ter·nal·ism

noun

The policy or practice on the part of people in positions of authority of restricting the freedom and responsibilities of those subordinate to them in the subordinates' supposed best interest.

Maddog

The newsfix Queen




Posts

: 11131


Join date

: 2017-09-23


Location

: Texas



My mum lives alone and is in her seventies, I won't "see" her for several weeks.
_________________
"Do I contradict myself? Very well; I contradict myself. I am vast, I contain multitudes"
~ Walt Whitman

eddie

King of Beards. Keeper of the Whip. Top Chef. BEES!!!!!! Mushroom muncher. Spider aficionado!




Posts

: 42246


Join date

: 2013-07-28


Age

: 21


Location

: England



---
Permissions in this forum:
You
cannot
reply to topics in this forum