Last month I polled over 10,000 people, paying particular attention to those who voted Labour in 2017 but not in 2019. We have also conducted 18 focus groups in seats Labour lost, with people who have moved away from the party (often feeling that the party had moved away from them). The report includes extensive quotes from these discussions, since they explain Labour's predicament better than any analyst could. They are all the more powerful when you consider they come from people who were voting Labour until very recently and probably never expected to do otherwise.
We also polled over 1,000 Labour Party members, and conducted focus groups with members of the party and of Labour-supporting trade unions, to see how the Labour movement's understanding of the election differs from that of the electorate at large and whether – and how far – they think the party needs to change.
From election night on, senior Labour figures have argued that the result was all about Brexit – with the implication that their lost voters will be back in force once that issue is off the agenda. While there is no doubt that Brexit played a huge part in the election, Labour would be wrong to draw too much comfort from that. Yes, many voted to "get Brexit done." But they also thought Labour's policy of renegotiation and neutrality was simply not credible: it stemmed from hopeless division and proved the party was nowhere near ready for government.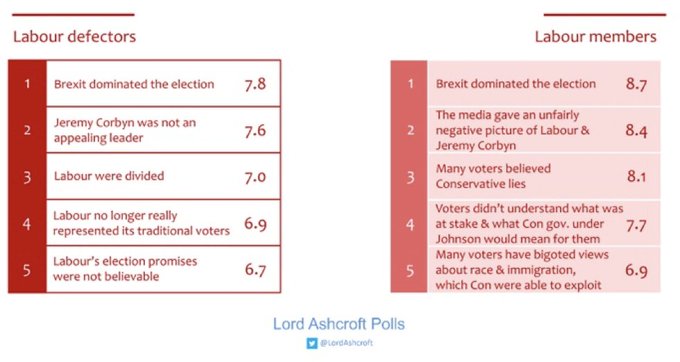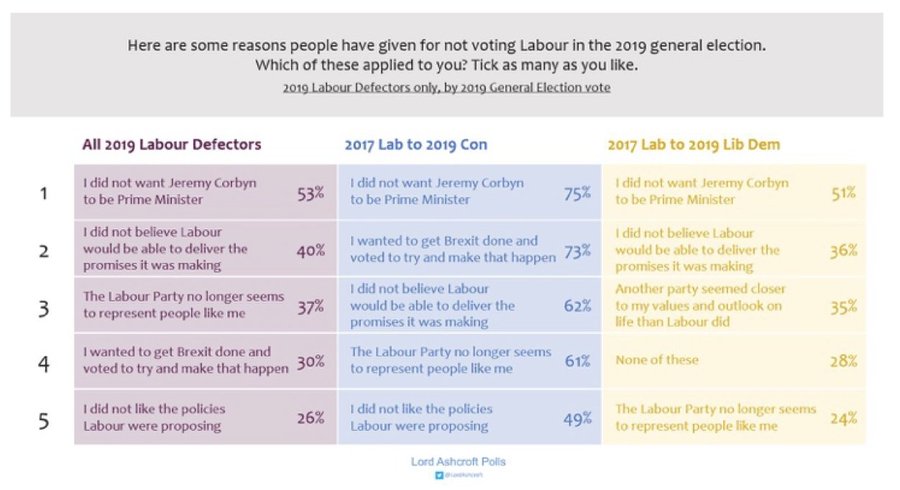 https://lordashcroftpolls.com/2020/02/diagnosis-of-defeat-labours-turn-to-smell-the-coffee/
---
Permissions in this forum:
You
cannot
reply to topics in this forum