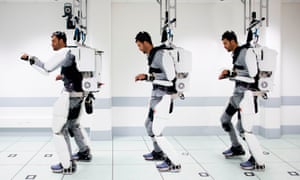 A French man paralysed in a nightclub accident has walked again thanks to a brain-controlled exoskeleton, providing hope to tetraplegics seeking to regain movement.
The patient trained for months, harnessing his brain signals to control a computer-simulated avatar to perform basic movements before using the robot device to walk. Scientists described the trial results as a breakthrough.
Doctors who conducted the trial said though the device was years away from being publicly available, it had the potential to improve patients' quality of life and autonomy.
The patient, identified only as Thibault, 28, from Lyon, said the technology had given him a new lease of life. Four years ago his life was permanently changed when he fell 40ft (12 metres) from a balcony, severing his spinal cord and leaving him paralysed from the shoulders down.
https://www.theguardian.com/world/2019/oct/04/paralysed-man-walks-using-mind-controlled-exoskeleton?CMP=Share_AndroidApp_Tweet
---
Permissions in this forum:
You
cannot
reply to topics in this forum