A photo of a high school football is making the rounds on social media and his story is inspiring people all over the world.
This is Taquarius Wair.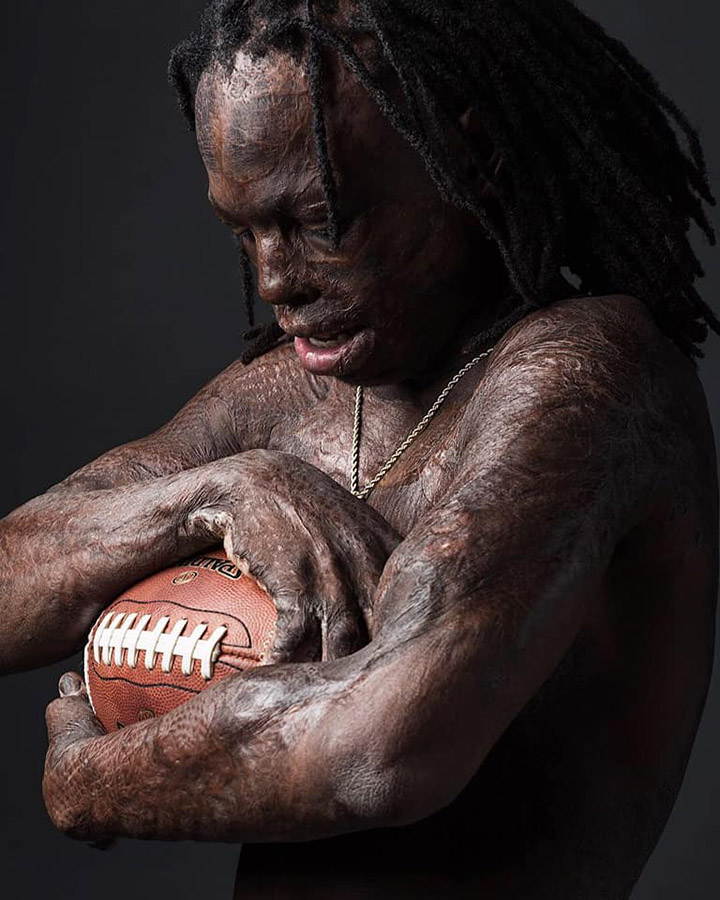 Credit: Janaye Johnson Photography
Janaye Johnson of Janaye Johnson Photography met Wair while working a football game. She was so inspired by his story she asked if she could photograph him and share his story with the world.
This is what she wrote:
"Taquarius Wair (TQ) is a senior at north high school. When he was 4 years old he woke up to his mothers voice yelling to him and trying to guiding him through a smoke and fire filled bedroom.
He made it out of the house to safety, but he then went back into the burning house. Although he can't quite remember why he went back, he believes he may have been trying to help save his older sister.
TQ, his mother and two siblings made it out, but the fire claimed the life of his older sister that night.
TQ suffered 3rd degree burns over 55% of his body, with some of the burns going to the bone. The doctors gave him a 20% chance of survival. He spent over 4 months in the hospital, one of which he was comatose. He endured countless surgeries and skin grafts and ended up losing much of his left hand and foot in the fire - but he's never let that slow him down.
He loves playing basketball and football; which is where I first met TQ. While I was photographing North Minneapolis football games TQ quickly stood out as a major play maker on the team.
He was later awarded the "This is why we play" award.
Despite how good he is and how much he enjoys the game, TQ almost didn't play football his senior year. Feeling defeated with always being underestimated due to his disability, he felt he would never get the shot he deserved and desperately desired.
But then in the 5th round of the 2018 NFL draft the Seattle Seahawks signed Shaquem Griffin. Shaquem Griffin is an amputee with only one hand.
TQ instantly related to Shaqueem's story and it gave him the hope and inspiration he needed, and so, he decided he would continue to play football one last year.
Which is a good thing, because he recently committed to play football at Mesabi Range College next year!!
TQ is a true inspiration to me and I'm so happy he let me photograph him and tell his story!"
https://www.sunnyskyz.com/blog/2889/Meet-TQ-The-High-School-Football-Player-Who-s-Inspiring-Everyone
This is a good reminder that the excuses many of us give when we fail, are pretty damn weak.

_________________
pa·ter·nal·ism

noun

The policy or practice on the part of people in positions of authority of restricting the freedom and responsibilities of those subordinate to them in the subordinates' supposed best interest.

Maddog




Posts

: 7594


Join date

: 2017-09-23


Location

: Texas



Maddog wrote:This is a good reminder that the excuses many of us give when we fail, are pretty damn weak.  
Absolutely mate. +1
Great story about an inspiring young man
_________________
"Do I contradict myself? Very well; I contradict myself. I am vast, I contain multitudes"
~ Walt Whitman

eddie

King of Beards. Keeper of the Whip. Top Chef. BEES!!!!!! Mushroom muncher. Spider aficionado!




Posts

: 41162


Join date

: 2013-07-28


Age

: 21


Location

: England






I love stories like this

thank you didge



gelico




Posts

: 1028


Join date

: 2019-05-03



3rd degree burns to 55 % of his body???
 It's literally a miracle he's still alive -and thriving! Well done to the medical team which made this miracle possible.
And well done to TQ, for his spirit & determination.
_________________
Live Love Laugh

JulesV




Posts

: 4002


Join date

: 2016-07-30


Location

: Vantage Point



---
Permissions in this forum:
You
cannot
reply to topics in this forum