At least 184 people were killed and 125 more wounded on Friday when Islamist militants set off a bomb and opened fire on people attending prayers at a mosque in Egypt's restive northern Sinai, state media said.

No group claimed responsibility for the terror attack, but it was the deadliest yet in the region where for three years Egyptian security forces have battled an Islamic State of Iraq and the Levant (Isil) insurgency that has killed hundreds of police and soldiers.

State media showed images of bloodied victims and bodies covered in blankets inside the Al Rawdah mosque in Bir al-Abed, west of the city of El Arish.

"They were shooting at people as they left the mosque," a local resident whose relatives were at the scene told Reuters. "They were shooting at the ambulances too."

Arabiya news channel and some local sources said some of the worshippers were sufis who hardliners such as Isil regard as apostates because they revere saints and shrines, which for Islamists is tantamount to idolatry.


http://www.telegraph.co.uk/news/2017/11/24/dozens-casualties-terror-attack-mosque-egypts-northern-sinai/
Ahhhhhh the religion of peace
It's horrible, shooting all those people and children.

magica




Posts

: 3092


Join date

: 2016-08-22



Following yesterday's horrendous terror attack in Egypt, Israel hater George Gallowayposted the following on social media.

[ltr]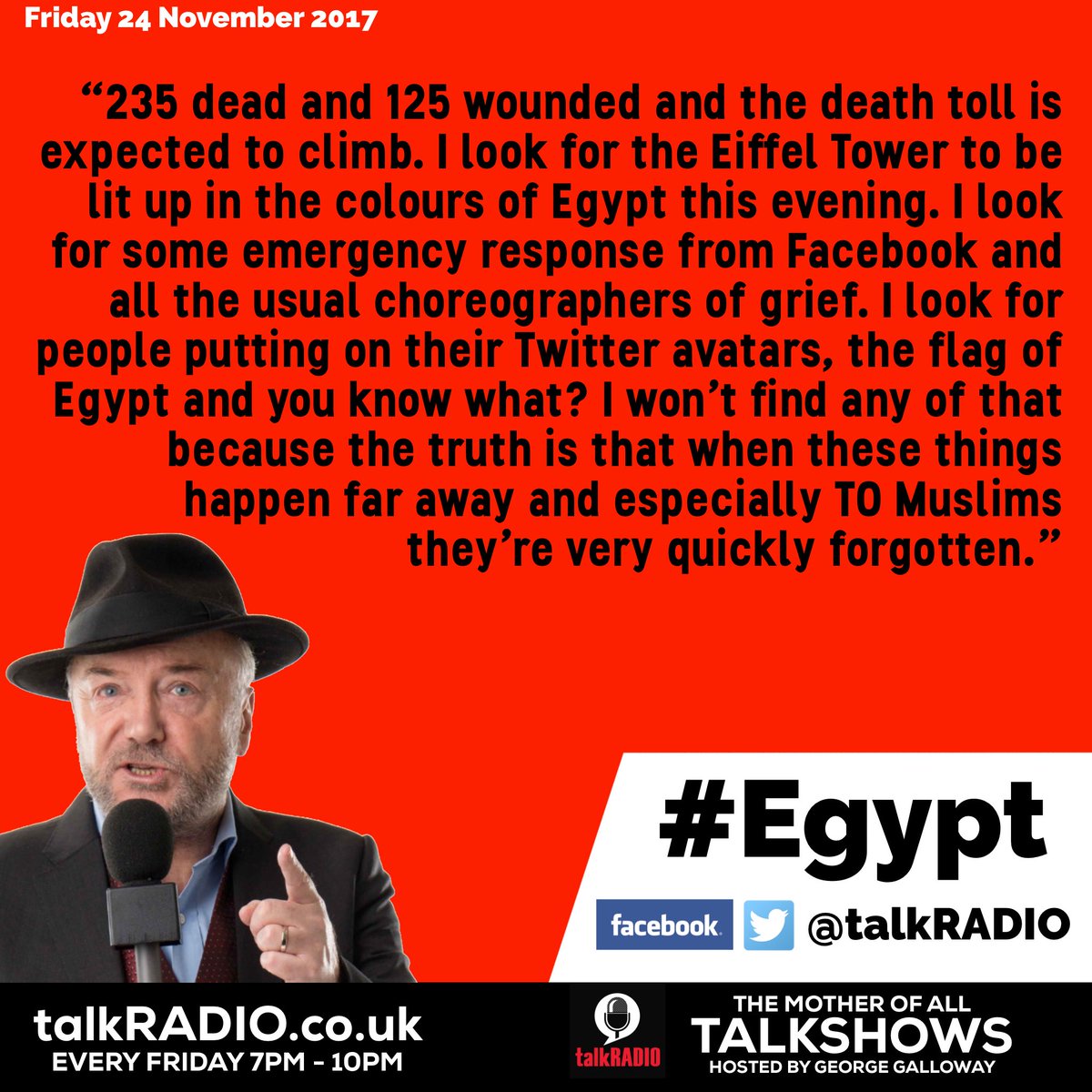 [/ltr]
George Galloway

@georgegalloway



[ltr]

"235 dead, 125 wounded and the death toll is expected to climb. I look for the Eiffel Tower to be lit up in the colours of Egypt this evening. I look for some emergency response from Facebook and all the usual choreographers of grief" #EgyptAttack 
Listen: http://talkradio.co.uk/radioplayer/live/talkradio.html …

[/ltr]


8:00 PM - Nov 24, 2017
[ltr]
Oh my, isn't this awkward.[/ltr]
Landmarks worldwide pay tribute to victims of Egypt mosque attack


Landmarks and government buildings across the globe paid tribute Friday to the victims of an attack earlier in the day at a mosque in Egypt's Sinai peninsula that left 305 people dead and another 128 injured.

Really, really awkward.

[ltr]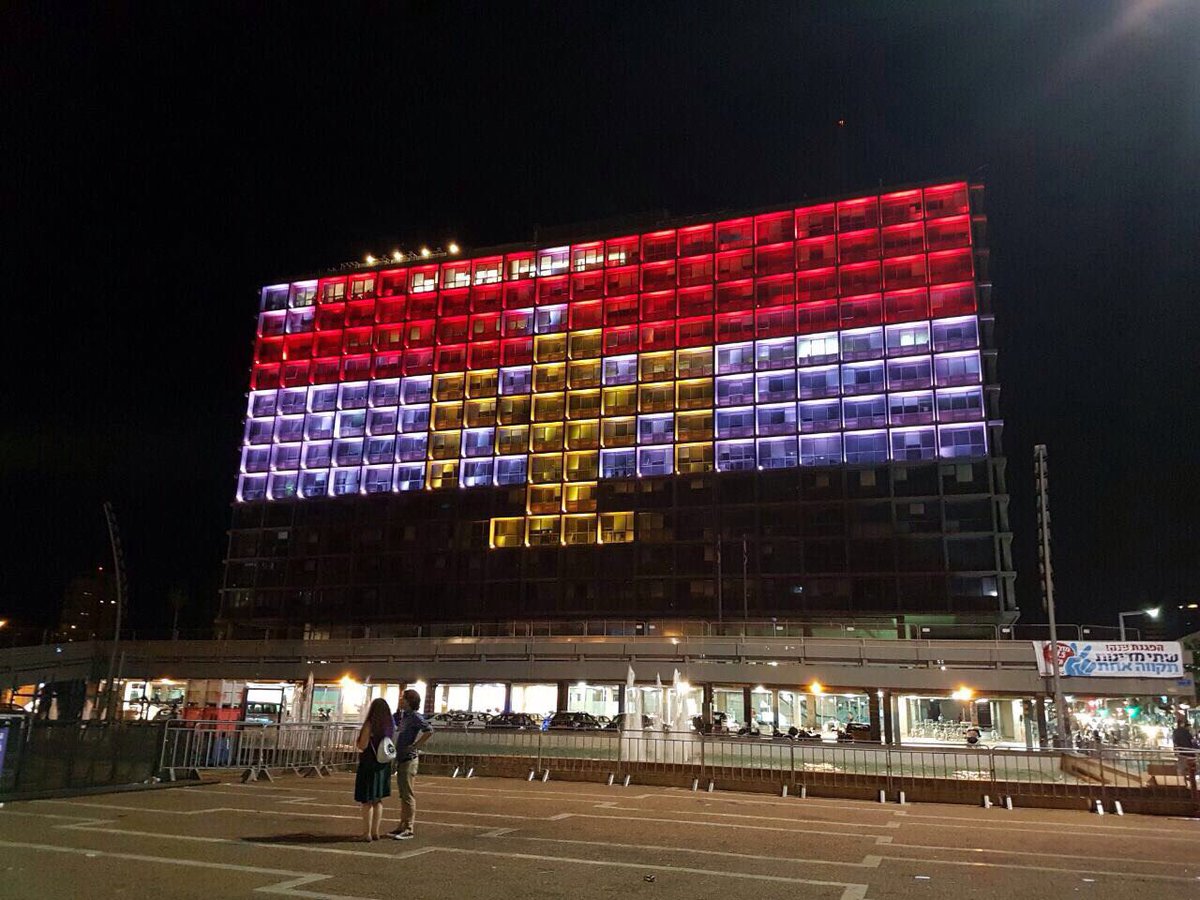 [/ltr]



Mayor of Tel Aviv

@MayorOfTelAviv



[ltr]

A horrific attack in #Egypt. We send our condolences to our friends across the border and light the Municipality building in their honor.

[/ltr]


4:04 PM - Nov 24, 2017
Although he was correct about the Eiffel Tower – it was 
not
 lit up in Egypt's colors.
[ltr]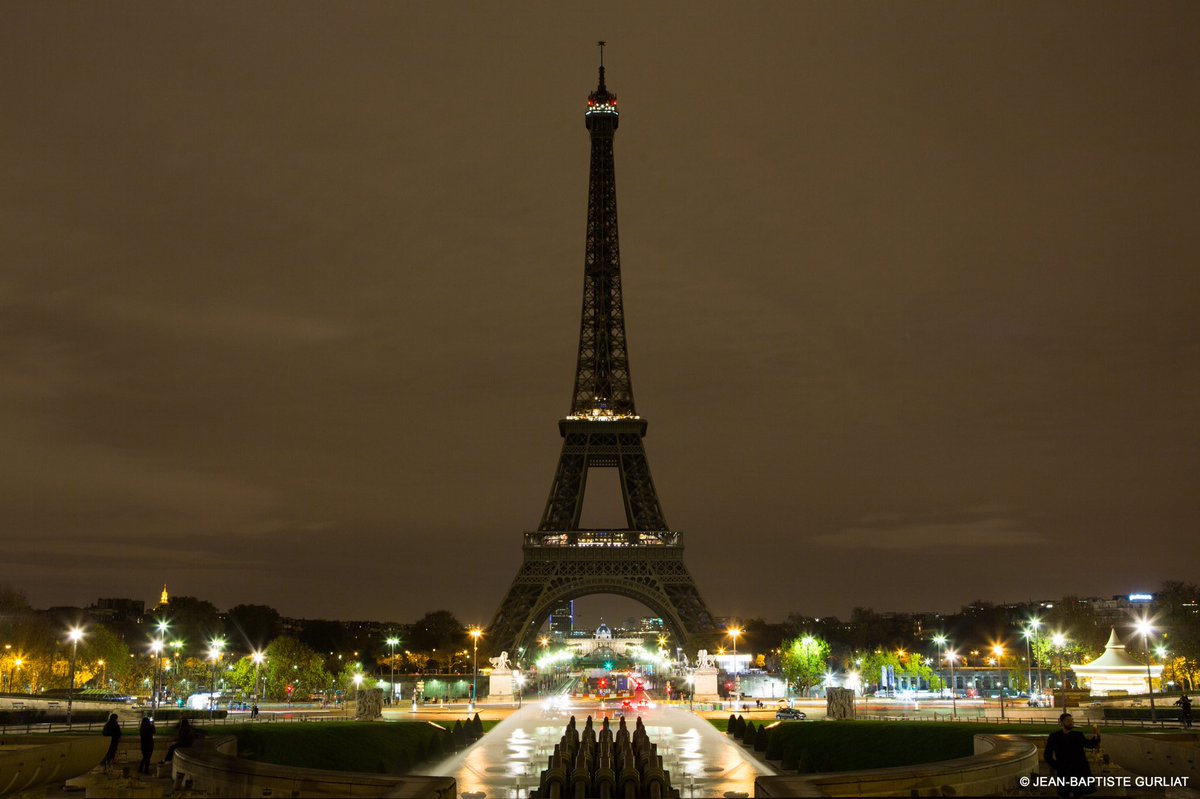 [/ltr]
La tour Eiffel

@LaTourEiffel



[ltr]

Tonight, from midnight, I will turn my lights off to pay tribute to the victims of the Egypt attack. #EiffelTower

[/ltr]


5:05 PM - Nov 24, 2017
Maybe I can raise this during the next #AskGalloway?

Although somehow I do not see Galloway admitting he was completely wrong. He doesn't do honesty well.
http://www.israellycool.com/2017/11/25/george-galloway-makes-complete-arse-of-himself-again/

Over 300 dead now.
_________________
"There never was an Aaron, counselor".

Raggamuffin




Posts

: 33746


Join date

: 2014-02-10



Madness. Apparently ISIS doesn't approve of the way these people worship their prophet.

_________________
pa·ter·nal·ism

noun

The policy or practice on the part of people in positions of authority of restricting the freedom and responsibilities of those subordinate to them in the subordinates' supposed best interest.

Maddog

The newsfix Queen




Posts

: 8931


Join date

: 2017-09-23


Location

: Texas



Another terrible terrorist attack by evil bastards!


But we don't hear Gallawank complaining when Christians are routinely being attacked in Egypt...


In fact... you don't even hear it being reported on the news very often either...!



_________________
"Truth is ever to be found in the simplicity, and not in the multiplicity and confusion of things." — Isaac Newton

'The further a society drifts from truth the more it will hate those who speak it.'  — George Orwell

Tommy Monk




Posts

: 24942


Join date

: 2014-02-12



---
Permissions in this forum:
You
cannot
reply to topics in this forum