She says its prevented mess and toothpaste being spread around the bathroom
Who knew pre-pasted toothbrushes were even a thing?

We certainly didn't until today, when their existence was brought to our attention by a mum who's come under a lot of fire for buying them in bulk.

Her post extolling the virtues of using them comes at a time when there's increased awareness and scrutiny about our throwaway culture, and the harm it is doing to the environment.

Sharing a jubilant status to the group, Simply Moms, which was later shared on Twitter, the mum wrote:

"These are a must have in our household. Within this box is 144 PRE-PASTED TOOTHBRUSHES!!!!! So that means no more wasted toothpaste or a big mess to clean.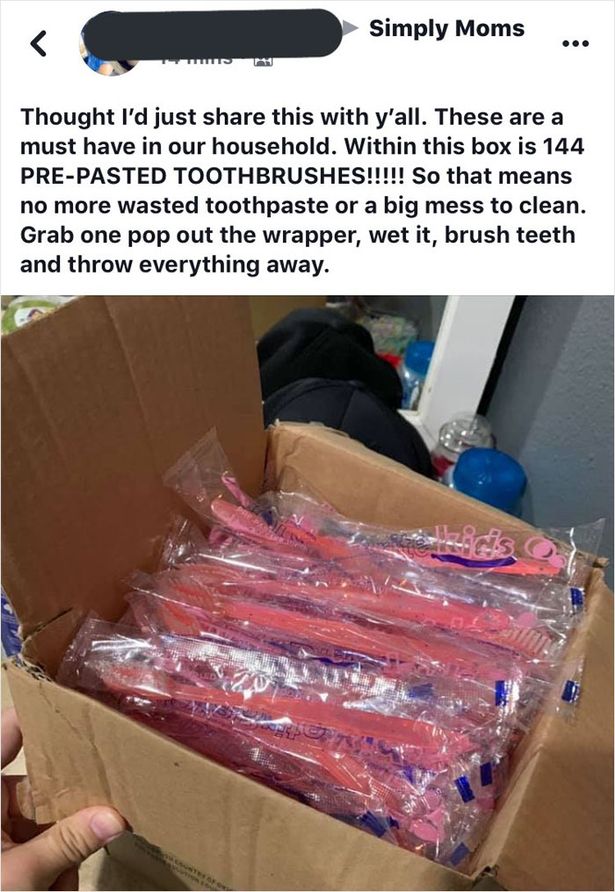 "Grab one pop out the wrapper, wet it, brush teeth and throw everything away."

The lady who later shared the post to Twitter added a couple of blistering captions.

"I commented that some people are so f*****g uneducated because her entire argument was 'it's recyclable' please DO YOUR RESEARCH. Right now 300 MILLION TONS of plastic is produced annually and only 10% is recycled!!!!

"Con F*****G grats lady, you've proved you literally don't give a F**K about the environment & you're lazy as HELLZ."

She wasn't the only one to feel these toothbrushes are, on balance, a bad idea.

Another lady waded in with: "Orrrr focus on teaching your kiddos to try their best with the toothpaste and wipe up the mess if they do make one?

"What a waste to have in a household where the main concern is wasted toothpaste and messes."
https://www.mirror.co.uk/news/weird-news/lazy-wasteful-mum-gets-absolutely-19466679
_________________
"The true genius shudders at incompleteness - and usually prefers silence to saying something which is not everything it should be."
~ Edgar Allan Poe

eddie

King of Beards. Keeper of the Whip. Top Chef. BEES!!!!!! Mushroom muncher. Spider aficionado!




Posts

: 40100


Join date

: 2013-07-28


Age

: 49


Location

: England



That literally makes my brain hurt. The sheer laziness and wastefulness!

_________________
"When I look into your eyes, your love is there for me
And the more I go inside, the more there is to see ...

Makes no difference where you are
or where you're meant to be"

- The Beatles

---
Permissions in this forum:
You
cannot
reply to topics in this forum